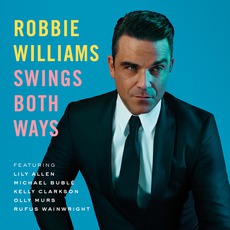 Tracks
People who bought this release also bought
The Album transports you back in time.

Swing Both Ways is Williams' second chart topping swing album after Swing When You're Winning, a direction that he seems keen to carry on pursuing. Throughout his career he has sold 18.6 million albums in the UK and 55 million globally, yet he's still driven by competing with ex Take That bandmate Gary Barlow... speaks for itself!
This is Where Robbie shows that he was much more than a member of Take That and also a great solo artist. He has a second helping of swing music, with some help from his friends. His last swing effort was really good but this one is even better, and I am not a fan of part two squeals. With guests like Lily Allen, Rufus Wainwright and Michael Buble how could you go wrong. Shine my Shoes starts off the disc with the band swinging right in and some great rip roaring vocals, Go Gentle is without a doubt my new favorite his vocal styling's are fantastic. I Wanna Be Like You-with Olly Murs is so much fun and he puts his own style to it, like the original did with Louie Prima. The title track with Rufus Wainwright is so tongue and cheek it is just so clever and cheeky. Dream A Little Of Me-with Lily Allen is so playful and their singing goes together like bread and butter. Soda Pop is a great song featuring Michael Buble and Kelly Clarkson does a fine job on Little Green Apples-this was a great 60's classic, and they did a smashing job. There is also a Wizard Of Oz gem if I Only Had A Brain-Robbie must of had a lot of fun with this tune. Robbie has a way with crooning tunes of a by gone era and mixing his own to fit right in with the swing sensation! please give this a listen one great song after another! Love IT!!!