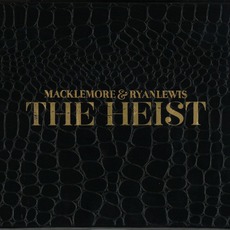 Tracks
Also by Macklemore & Ryan Lewis
People who bought this release also bought
The Seattle MC, Macklemore crept up from the deeper end of the underground pool and blew YouTube up with an array of hit records from his Grammy winning album The Heist. Macklemore drops his rookie studio offering along with his partner in crime, producer, Ryan Lewis, fellow Seattle native. The most listened to being his trendy, "Thrift Shop," featuring Wanz who delivers the soulful and distorted vocals giving the song a sort of human base characteristic. Macklemore proves to the world that thrifting is not only still a thing, but a must. Macklemore speaks on the absurdity that is hundred dollar t-shirts, price dependant on the credibility of the brands patched or printed on them. He explains that you can rock a pair of plain strap-ups, a second-hand fur coat and still look "fucking awesome" when you step in the club or walk the town at night. The Heist is nothing short of positivity and this track is no exception. The track "Can't Hold Us" featuring Ray Dalton is Macklemore's 'I'm unstoppable' anthem. He boasts that his entry into the mainstream without the help of any major record labels is only the first fruit of many to come on his seemingly fertile path to superstardom. He validates his claim by winning the VMA for the best Hip-Hop video of 2013, which is no easy task, unless you like myself believe that award shows give certain artist preferential treatment. But nonetheless, even with the award gods on his side, beating mainstays like Drake and the two veterans Kanye and Jay-Z who weren't even nominated (surprisingly) is still something to be proud of. Macklemore balances the lighthearted tone of his album with more complex tracks such as "Same Love" and "Neon Cathedral", where he tackles pressing cultural issues. The most controversial track of the three mentioned is "Same Love" featuring Mary Lambert, the first time that I've heard a rapper speak insightfully on the topic of homosexuality without any animosity in their lyrics. Macklemore admits to the fact that as a child he once doubted his heterosexuality because he was into art and other "unmanly" hobbies and his love for his uncle who is a gay man. Macklemore goes on to criticize religions and groups that believe homosexuality is a disease, implying that in can be cured. Macklemore questions society's deep rooted hate for things that are different from us. To quote fellow Seattle rapper, Raz Simone, "we bare our beliefs on our sleeves like we can't be cordial unless we agree." In the spirit of equality and inclusion, Macklemore stressed that otherness isn't something to ostracize, but to embrace, accept at the very least. We have become desensitized to the abysmal affect that homophobic rhetoric has on our sense of unity. He even dabbles on the idea that Hip-Hop should discuss topic like homosexuality more and discourage the hate. On this next track, "Neon Cathedral" featuring Allen Stone, Macklemore takes the spotlight off of the gay community and shines on his dark past with abuse. To any Macklemore fan who has been listening since his early works, his struggle with drug abuse isn't news. But for others, he cleverly strings together a narrative about a man who has lost hope in his beliefs and treats the bar as his church, which he visits religiously. Instead of stain glassed windows, his church is under a neon sign. He admits shamefully that he is more familiar with drugs then he is bible scriptures. And goes on to reflect on all of the freedom that his addiction took away from his life, destroying not only his beliefs but his relationships as well. I hope this review has given you a better perspective on Macklemore's has been called-out for not fitting the "criteria" for a rapper albeit his use of rhyme, similes, metaphors and all the other poetic tools which typical rappers possess. Macklemore isn't a rapper; he's a member of the next generation of rappers. And he's here to stay awhile.
Washington born rapper Macklemore, is the newest kid on the block to the Rap game. His single 'Thrift shop' was arguably the most popular song in the world in 2013, having reached the top spot on the US billboard hot 100 and sold over 2.2 Billion copies in it's first few months of release. From the get go, the listener is sucked in by the ridiculously groovy beat and addictive funky trumpet lick which is completely different to the typicality of music within the genre. Macklemore spits out clever line after line about how shopping at the thrift shop is "F****** awesome". Deep right? No. not really. but fortunately for everybody, there's more to his story than his popular single gives him credit for. Macklemore and Ryan Lewis' debut album 'The Heist' is clear evidence that Macklemore is about more than the riches, fame and pleasures that so many rappers idolize in their music. The album kicks off with "Ten Thousand Hours", a song centered around Malcolm Gladwell's book called Outliers in which Gladwell suggests that 10 000 hours are required to achieve success in any particular task. Macklemore gives us a guided tour of his world and the hard work and dedication that was required to reach this point in his journey as an artist. Each line is elegantly constructed and delivered mercilessly, cutting through like a double edged sword. Verse 3, changes direction and Macklemore raps about his struggle with drug addiction and how he stands for the people that share that struggle. Just 4 minutes into the album and it's clear that Macklemore has a story to tell - a powerful message for those who are willing to listen. Ryan Lewis' production on this track is best described as fitting. There is something to say for a musician who has learnt the art of reservation. The basic chord progression gives space for Macklemore to deliver his lines in the verses with clarity whilst the synth creates a catchy and enjoyable melodic framework for the fairly monotonous guest vocals to build on during the hook. Track two 'Can't hold us' is a catchy four to the floor anthem that makes you want to get up and dance. Macklemore starts the song off with a Pitbull 'esque rap, unrelenting in his execution, spitting out line after line at jaw dropping speeds. The Chorus features Ray Dalton, whose voice you might have mistaken for John Legend's, as I did at first. Ray's vocals are excellent and the Chorus is easy to sing along to. Lewis has made nice use of brass instruments like French horn and trumpets, a break from the usual synth and heavy bass used in a dance tune. 'Can't Hold Us' is better than the typical dance song you'd find on the radio. Third is 'Thrift shop' which most people will be familiar with. Lewis has used some creative production techniques in the very beginning of the song by panning certain sounds at different positions in the stereo mix - this is unusual and gives the album a flavor of its own. The trumpet lick is groovy as heck and unlike anything you've ever heard in a hip-hop song which is probably one of the reasons the song has become such a success. Lyrically there isn't all that much depth to it, but it's still a fun song to listen to."Same Love" is possibly the most powerful song off the album. Macklemore defends homosexuality and makes a statement on a taboo amongst society and the hip-hop scene in particular. The chorus features truly beautiful guest vocals by Mary Lambert who sings," And I can't change, Even if I tried, Even if I wanted to." - the best guest vocal on the album in my opinion. Lewis makes use of trumpets and horns once again and occasional violin flourishes really add a depth to the song. Gospel'esque piano echoes the atmosphere and imagery set by many of Macklemore's lines which mention God, love and lessons he learnt in Church. This album is a great break from the typical rap albums out there and I'd highly recommend it.
Much of Macklemore's music is infused with humanity. In particular, the tracks Same Love and Neon Cathedral stand out.

Same Love deals with being gay, and also with being a straight ally of the gay community. It is an indictment of the American political and societal attitudes toward gay people, and gives a voice to those of us who are not gay but support the fight for gay rights.

Neon Cathedral is a heart-wrenching work of introspection about what it feels like to have a drinking problem. I've never heard another song deal with alcoholism in such an honest way.

One can tell from Macklemore's music that he can see both himself and other people clearly and without fear - and this is a rare contribution to both popular music and hip hop.

But while many of his tracks are laden with substance, he is also capable of music that is just plain fun. The track Thrift Shop, for instance, shows a lighter more traditional brand of hip hop music.

All in all, this album has a range of musical experiences to offer.
This is a great album. Their single "Thrift Shop" established them in mainstream media, but there are many great songs in here. The stand out for me has to be "Same Love" which is such a good song, with great vocals, lyrics, and beat. Great album.
I didn't really care for this album at all.. One song on the whole album I only got because I've heard it on the radio and it got stuck in my head. I'm not much of a Hip Hop/Rap fan, so this didn't really appeal to me at all. The sing I got was Thrift Shop only because it got in my head and stuck...It really has no meaning, it's just commercial.