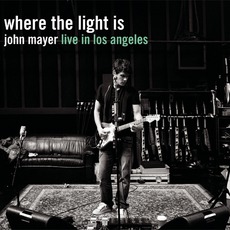 Where The Light Is: John Mayer Live In Los Angeles
by John Mayer
Tracks
People who bought this release also bought
Hadn't heard much of John Mayer until my son introduced me to him. Really relaxing acoustic and electric based music, and a mix of emotive, foot-tapping and thoughtful lyrics and chord sequences. An excellent live performance here, with a selection of his better known and lesser known tracks, with many of my now favourite songs. Highly recommended introduction to this very talented and yet established artist.
It's astonishing that such a talented musician is so young! John Mayer plays with such heart and emotion that we think we're listening to someone with a long journey behind him. This concert starts with a small acoustic set, moving up to the John Mayer Trio (with incredible performances from all the band) and then it grows to the 9-piece band, my favorite part of the show. I really enjoy all the blues played, but it's the heart-felt solos of Gravity and Slow Dancing in The Burning Room that show all his feeling at the guitar. A must-listen.
I didnt buy all the Great, soothing music that's nice to listen to when you just want to sit down and relax! Honestly not the biggest fan until...... I heard this live cd. Great talent for sure! No doubt the music he makes is from the heart and really puts emotion into his performance. Some of the greats in my opinion are Gravity, Free fallin, and waiting on the world to change. Those are by far the best songs in my opinion on the cd.songs...only buying the songs i knew but i'm going to buy the rest of the cd after hearing the few greats. I'm going to give this cd only 4 stars hoping to make up for the songs i did not hear. So pretty much i'm giving it 4 because i havent heard the other songs and if some are bad then i wont feel bad for giving it a 5! Oh yes and you can't beat the price of the album!