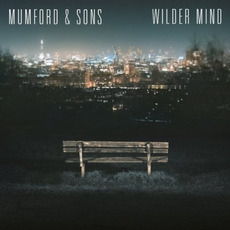 Tracks
People who bought this release also bought
I have been a Mumford and Sons since the very beginning. Their first two albums were awesome with the folk and banjo theme, when Wilder Winds released I was like what is is. After listening to this album multiple times I was sold! Some of my favorite songs from Mumford and Sons are on this album. Buy It now!!
The much anticipated third album by Mumford and Sons is finally here. Between rumours of the band's break-up and the knowledge that the band was taking a new direction, I think fans were unsure of what to expect from "Wilder Mind". I'm sure that not unlike when Bob Dylan went electric in 1965, there will be some criticism of Mumford and Sons taking their music in a new direction, especially since the band was at the forefront of a folk revival. I, for one, was very excited to see what the band would do. It's not that I didn't love the sound of "Sigh No More" and "Babel", but I think the band did need to look at taking things in a new direction.

The big question was, what would the new Mumford and Sons sound like? The much anticipated first single, "Believe" immediately had me thinking that we were seeing Mumford and Sons does Coldplay. That isn't necessarily a bad thing, after all, I like Coldplay. The next single "The Wolf", however did not sound like Coldplay. When I listened to "The Wolf", I immediately noted that this is a song meant to be played live. The rocking intro to "The Wolf" sets the tone for a fantastic, upbeat live track.

So as soon as the album became available, I immediately went and downloaded it. The album exploded off the bat with "Tomkins Square Park". The driving rhythm of this song sets up the rest of the album nicely. As the album developed it showed in my opinion both the talent of the band in terms of their musical and songwriting ability. I found that songs like, "Wilder Mind", "Broad Shouldered Beat" and "Monster" were very thought provoking. "Ditmas" quickly became one of my favourites as I loved both the rocking chorus and thought provoking lyrics. My favourite song on the album was "Snake Eyes", which starts beautifully melodic and then builds to a cathartic climax.

Overall, I found that lyrically, the album runs a little darker than previous albums and deals with more personal themes. Musically, the album fits beautifully within the indie rock scene today.

On a final note, I would say that the extra tracks on the Deluxe Edition id definitely worth getting because songs like "Tomkins Square Park", "Believe", "The Wolf" and "Snake Eyes" seem to be to be meant to be played live, so it's definitly worth having the live versions.
There's just something about Mumford and Sons, some kind something that just makes them so likeable. Of course they're talented, great musicians, and great songwriters, but there is more to them that. There's just this feel that they have that makes all their music so inviting and enjoyable. I love the acoustic, laid-back sound these guys have, while still maintaining an intensity that is rare in such acoustic-driven music. Yes, there is a lot of acoustic, but these songs are not sad, slow, brooding at all. They are very upbeat and catchy. There are probably a fair amount of comparisons to other artists that you could make, but I'll just compare to another one omy personal favorites, Phillip Phillips. I love how, like Phillips, Mumford and Sons are able to have acoustic songs that are upbeeat, yet still soulful and meaningful.

Wilder Mind is another great entry from these guys, my favorite songs being "Believe", "Wilder" Mind", "The Wolf", and "Hot Gates". These guys show with this album that they have staying power, as well as prove to everyone that they can really make music that is lasting. I would recommend this to anyone who enjoyed their previous album, as well as anyone who like acoustic music.