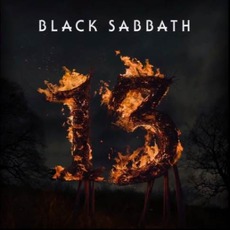 Tracks
'13' is actually Black Sabbath's 19th studio album (20th counting 2009's 'The Devil You Know' under the name Heaven & Hell) and their first with Ozzy Osbourne in 35 years. As expected, a huge amount of hype had floated around this release since the band's official reformation in late 2011. The original band had reunited several times in the past, but it was announced in 2012 that drummer Bill Ward would not be in the band due to legal disputes. In addition, guitarist Tony Iommi had been diagnosed with lymphoma around the same time. Things were certainly looking dour for the metal lords. Fortunately, they rose above the adversity and created an album that pays tribute to their legacy as well as builds upon it in little ways.

"End of the Beginning" is an expectedly doomy yet anthemic opener. Lead single "God Is Dead?" follows in similar fashion, sporting an excellent riff similar to "Hole in the Sky" around the six-minute mark. "Loner" is more mid-paced, sounding like it could have fit as easily onto a Dio-era Sabbath album as an Ozzy-era one. "Zeitgeist" is strikingly similar to "Planet Caravan" but ends up being just as good, if not better. "Age of Reason" is perhaps the most vintage-sounding song here with a couple of perfectly plodding riffs; the gothic keyboards are the icing on the cake. "Live Forever" is a bit faster than the other songs here. "Damaged Soul" recalls the band's bluesiest numbers with its extended jam sections and suffocating atmosphere. Closing track "Dear Father" sports a ferocious riff derivative of "Sabbath Bloody Sabbath", and the song ends with the same thunderstorm sample that opened the band's 1970 debut album, representing a sort of closure for fans and maybe even the band themselves.

'13' is very consistent in terms of songwriting. Sabbath keeps it simple with only eight songs like many of their greatest albums, leaving no room for filler. In fact, it's almost too consistent, seeing as several songs have nearly identical structures. Ozzy hasn't sounded as good in years, and while he can't really hit the high notes anymore, he still knows just how to use his voice as always. Though Bill Ward's absence is most certainly felt, Rage Against the Machine drummer Brad Wilk does an admirable job in his stead, even if he doesn't quite achieve the same masterful chemistry with Geezer Butler as Ward did. Actually, Butler's bass playing in general is not quite as prominent on the whole (compared to Iommi's massive riffs, at least), and his lyrics are a bit self-referential to say the least. Still, the biggest problem lies in Rick Rubin's production. After his work on Metallica's 'Death Magnetic', many feared that the same compression issues would plague '13'. While it's not that bad, distortion is noticeable when listening on headphones, and one can't help but wonder if (or how much) the album could've benefited from a more savage production. (Rubin himself said that he wanted the album to sound like the band's debut, but he definitely fails to deliver on that front.)

All things considered, if this is to be the final album in the Black Sabbath canon, then the band have certainly gone out respectably. Even if they've cooled down in the last couple of decades, they knew to strike when the iron was hot; had they attempted this any sooner, it would've sounded a bit too much like an Ozzy solo album (hear the two studio tracks from 1999's live 'Reunion' album for proof). '13' is not of the same stature as their first six albums, but it's easily among the best that they've done in the nearly 40 years since then. It might not be the best starting point for newcomers, but die-hard fans should rejoice that Sabbath can still churn out relevant, high-quality metal in this day and age, adroitly besting many of the artists that they've influenced.