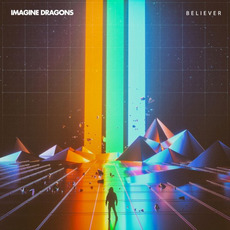 Tracks
People who bought this release also bought
This is a gigantic song. This is radio pop born out of movie score influences. This is the kind of song that will scare you in the best way. It is kind of reminds me of the song sleep by one republic but much louder and more grandiose. To me, this is the kind of bold innovation that most pop music lacks. And this is also great in the sense that imagine dragons shows themselves to be albe to continue to create more hits that are big and bold. There are few artists that can consistly bring forth this kind of sound and it just shows that they are incredibly talented and have an amazing team to back them up.
And thus, Imagine Dragons have risen from the deep, to explode into the light of the stage again! And with a solid entry too! An instant pop hit, 'Believer' is full of the classic sound that put the band in the spotlight. The power that brings the song it's life comes from the full blown drums and bass. The drums as not toned down, rather, they feel as they are cranked up in volume, giving the heartbeat. The bass gives a sound unheard by the band, giving the band new life and still sounding the same. The album this belongs to, 'Evolve' puts it perfectly: Imagine Dragons are back, and they are better then ever!
It's easy to see why Imagine Dragons are so hot right now. They continue their uplifting soundscapes with 'Believer' from their upcoming album Evolve. This one is highly percussive in nature, with stomps and bangs forming the basis of the structure of the song. It's very effective and comes off like a more pop sounding Mumford and Sons. Other than that, the music has a contrasting stark quality to it, but is propelled by Dan Reynolds highly versatile vocals. He moves effortlessly from crooning to basically rapping in the same verses. In fact his rapid fire delivery during parts of the song are one of the highlights here. Toward the end, Imagine Dragons kind of crescendo into a high multi voiced ending that will in fact make anybody a "Believer" of this band. You listen to a song like this and can hardly believe they're only on their third album.