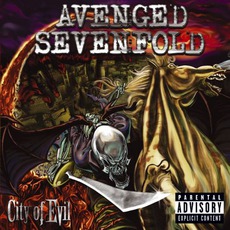 Tracks
Also by Avenged Sevenfold
People who bought this release also bought
This is Avenged Sevenfold's work at their greatest. Other than compared to ""Nightmare" which is their most recent album, this is the darkest and grittiest album to be released by A7X. This album, in my opinion had the best musical composition compared to their other works. Every song on this album is memorable in their own way and that is way this deserves a perfect 5 star rating. Good Job Avenged Sevenfold.
Definitely my most favorite,(aside from Book of Nightmares album). This album is pretty intense and hardcore EPIC like Beast and the Harlot, Bat Country, and Seize the Day (for its epic solo). In my opinion, I would buy all of the A7X albums, but if you are a little picky, buy this one and Book of Nightmares.
This remains one of my favorite albums to date. While earlier release "Waking the Fallen" risked isolating those unaccustomed to the full-on "screamo" genre, this release creates a successful mesh between the accessible Alternative/Hard Rock genre (with their hit single "Bat Country", for instance) with just enough of a heavy metal throwback (see: "Trashed and Scattered") to keep die-hard fans satisfied that the sound change isn't far afield of their head-banging roots.