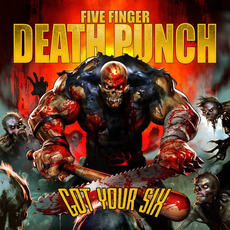 Tracks
Also by Five Finger Death Punch
People who bought this release also bought
I just heard "I Apologize" and "This Is My War", from this fantastic group!! This could be the best album yet from this band to date! I hear they are on tour with Shinedown and I think that would be an awesome concert. Me and my daugther like Five Finger Death Punch (I introduced her to this band). WE both are looking forward to more music we can enjoy together!
This is no of those bands that once you hear them, you won't forget them. On "Got Your Six", the best song was "Wash It All Away". Currently, with the American Presidential Campaign, it seems fitting. The lyric, "I've giving up on the media, it feeds my hysteria", seems relevant to the times we live in.

The more I hear from this band, the more I like them. Thanks to caprice, I found these guys and continue to enjoy them. Looking forward to more.
Five Finger Death Punch strikes again! Once again this band has failed to disappoint. Got Your Six is probably one of their strongest albums they have released in a couple of years. If you like War Is The Answer and American Capitalist, then you will LOVE this album. They brought elements from those two albums to create a masterpiece among Modern Rock and Metal. This album is definitely better than Wrong Side of Heaven Vol. 1 and Vol. 2. Ivan shows that he can still yell and scream like he did back on War Is The Answer and on The Way Of The Fist, but he also shows that he can sing like on American Capitalist. Jason and Zoltan are probably the best guitar duo in Modern Metal/Rock right now. They know how to combine guitar riffs into works of art and they both know how to shred a killer guitar solo. Chris is one of the best background vocalists you could ask for. He is almost like Ivan, but he can play bass. He can yell the parts perfect, while Ivan does the main singing. And last but not least Jeremy Spencer is one great drummer. He adds the perfect drumming to each song and knows how to do great double bass riffs. Now he isn't doing double bass for the whole song, but he knows that if he doesn't do that than he needs to be creative, and that is exactly what he does. Another great thing to this album is that they DIDN'T DO ANY COVERS! It shows that they can be creative and create music that is their own instead of doing other peoples songs. This is a must have for any Five Finger Death Punch fan and if you are a fan of War Is The Answer and American Capitalist, YOU WILL LOVE THIS ALBUM!