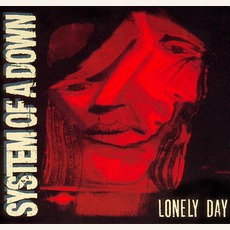 Tracks
People who bought this release also bought
The "Lonely Day" single is System of a Down's foray into the slightly gentler, more emotional field of punk music. As always, System of a Down tries to contain some of their criticism of modern (American) society in their songs, and Lonely Day is no exception.

The single works because it manages to combine the acoustic guitarwork of Daron Malakian with his apparently pretty good voice (Malakian, unfortunately, has never featured as lead singer on a System of a Down track since.) After a while, Serj cuts back in and the song goes back to the classic System of a Down punkrock sound, but it just works. Overall, Lonely Day is a great piece of music.

The other tracks are pretty good as well. If you want to collect System of a Down singles, Lonely Day is definitely worth the price.
System of a Down was on a roll while producing all of their albums, until they made an unexpected halt, in making their albums. I don't know HOW they aren't making more, but expect to see one soon. Lonely Day is like all of their other albums, it has great tone, the quality of sound you would expect from S.O.a.D, and they are a very honorable band. Anyone who is anyone should get this album.