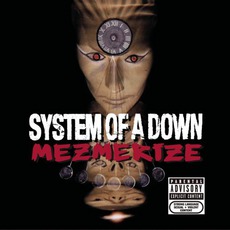 Tracks
People who bought this release also bought
After System of a Down pretty much reached their high point in terms of musical prowess with the "Toxicity" album, it was difficult to predict where they would go from there. "Steal This Album" was somewhat lower on the quality curve, but Serj and the boys came right back with "Mezmerize", my second favourite System of a Down album out of all of them.

The highlights include the second track, "B.Y.O.B.", "Revenga" and "Cigaro." B.Y.O.B. is simply one of the most memorable songs System of a Down have ever written with a big chorus that remains stuck in your head for days, but in the best possible way. The same can be said for Revenga, and Cigaro is simply a hilarious song that sounds like the band having some fun. It also furthers the point that there is a certain childishness to what System of a Down does: by poking fun at society, they also critisize it. In that context, the profanity in Cigaro's lyrics seem entirely justified.

The rest of the album's content is well worth it as well. Across the board, Mezmerize offers great punkrock songs that are well worth your time.