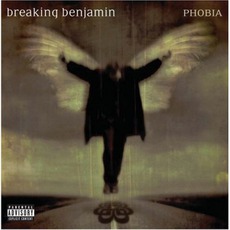 Tracks
Also by Breaking Benjamin
People who bought this release also bought
Phobia is probably the best breaking benjamin album ever produced. I listen to is almost every day its that good. I bought the clean version and wish they took more time in dubbing over cuss words like the "We Are Not Alone" album, but no use in crying over spilled milk.
I only recently discovered Breaking Benjamin, and did so through this particular album, "Phobia". My favourite track on there most definitely would have to be "Breath", which is a great tune featuring a big guitar riff, good vocals and an emotional touch.

Breaking Benjamin's greatest strength is that the band manages to combine metal and grunge with some pretty touching, relatable lyrics. Their music really gets the blood flowing. "Diary of Jane" is a great piece of music as well.

I'll be getting more of their albums soon, and I suggest you listen to this one too: it immediately sold me on the band. Get it, won't you?
Breaking Benjamin has some great songs on this album. The lyrics are ones that most people can relate to on some level, and the music is good as well. This is a good album to use for stress relief and it also makes for good driving music. I will definitely be looking for more music like this.