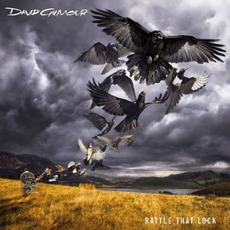 Tracks
People who bought this release also bought
David Gilmour surprised pleasantly in 2015 with a solo release (4th), a much wanted release by Pink Floyd fans, since their last album, The Endless River, was an instrumental with songs that were unfinished and not released until 2014. It sounded like an album with one very long song. Rattle That Lock has more of the same classic David Gilmour feel in his songs, although there are a few surprises, such as the title track, and "The Girl In The Yellow Dress", which have a different vibe, and perhaps the not so appalling tracks. His voice is getting weaker, which is understandable with age, and you can hear it as he is more whispering than singing, but still very good. His guitar playing is still top notch, giving so much emotion and expression to it. It is clear that he writes his music for himself and not to amuse his followers. He enjoys doing what he does and wants to keep it simple. No more mega live productions, which is also understandable. He has done that for many years and no longer needs to prove anything. He is an accomplished musician and composer. And he demonstrates this in songs like "Faces Of Stone", "In Any Tongue", and "A Boat Lies Waiting". The album is bit dark and moody at times but still enjoyable. This is a must have for Pink Floyd fans.
According to those who know him well, David Gilmour is a rather lazy: in the years after '95, after having dug out with "his" Pink Floyd among multiplatinum records and tours blockbusters, the British guitarist decided to indulge in a long break to enjoy his status as a millionaire gentleman at rest in the company of cats and horses. A silence interrupted in 2006 from his third solo album (and comparsata at Live 8 year before, with Pink Floyd in classical training), another round, tour and millionaire sales, then silence again. however, must have had a fit of creativity not just to publish two albums well over the last year: closing the file "The Endless River" fact touches on his fourth solo album, on which work had begun well before the last chapter signed pink Floyd.
 
"Rattle That Lock" is a record that has distanced itself from "On An Island" and its indolent atmosphere: introduced by the usual combination of keyboards and guitar as "5 AM", the title track (as well as a promotional single) is a ' genuine surprise, were in fact several years since we have had to hear a Gilmour by so vigorous tones. "Faces Of Stone" is a dreamy ballad that retrieves Pink Floyd more distant, while "A Boat That Lies Waiting" is the poignant memory of his friend Richard Wright, who had also characterized the earlier work with his masterful sound carpets. Once again is the theme of absence, constantly present from "Wish You Were Here" forward, to characterize the work of these artists just before the verse you can hear even the voice of the keyboard to introduce a text that is poetry, a poignant dedication to his friend of a lifetime. Seventy years old, unshaven and the signs of passing time, David Gilmour shoots his cartridges end career knowing they will not have to prove anything but to be a free artist: I am living proof of the "Dance blues Right In Front Of me "and the incredible" the Girl in Yellow Dress "where you can feel even a bass immersed in an unprecedented atmosphere of jazz clubs 30s. The Fender Stratocaster roaring back bully in dense rock of "Today", while the "In Any Tongue" and "Beauty" is certainly a more conventional Gilmour and tied to Pink Floyd, however, able to move with an already familiar language to the general public.
 
At the ripe age of seventy Gilmour renews the sample which has enchanted across the board the most diverse types of listeners, generations that just claim to experience the same emotions listening again that magical style that transcends space and time. Gilmour is not an assembly line from artist to artist and as such, each new issue should be seen as a gift, an opportunity to celebrate the myth of an artist without equal.