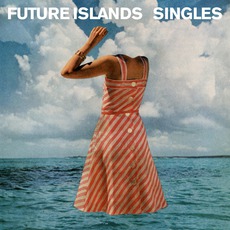 Tracks
People who bought this release also bought
Da Future Islands released their third album, 'On the Water', back in 2011, paved the way for a small breakthrough. At least as much to the '80s romantic Baltimore trio now come in fine company on indie Lighthouse, record label 4AD, which is behind the release of the group's new album. It could be the formula for the long-awaited entry among a broader audience, and the album title says it also a great deal about the three gradually seasoned masters confidence and ambition.

Future Islands is certainly something to create dreamy soundscapes in douche watercolor shades that underpins the wistful lyrics about loss and love. Guitarist / bassist William Cashion borrows a lot from the 80's flamboyant grandmasters with crystal clear guitar figures and heavy bass lines, and along with the newly acquired producer and former Beach House collaborator Chris Coady, manages keyboard controller Gerrit Welmers whipping an airy foam of anesthetic gentle synthesizers together to contrast the darkness that lurks in the corners. But the trio gets its very special shine through frontman Samuel T. Herring's deep and hype-law just soul vocals - without Herring is hard to imagine Future Islands really stand out in the crowd of similar bands like Wild Nothing, Lower Dens and Wild Beasts, despite the good tunes.

Although Herrings quivering sensitive vocals, with its Antony Hegarty'ske subtleties, still used intensively cheesy, they are over dramatic parodies that characterized 'On the Water', here dimmed. With its uptempo beat is 'Seasons (Waiting On You)' did a completely trimmed eminent epic album opener that leads into the equally vehement swollen 'Spirit' and 'Doves'. And there is also room for slowburner ballads as the sparkling 'A Song for Our Grandfathers' and 'Sun in the Morning'. But on tracks like the black end 'Fall From Grace' hisses and growler Herring angrily way down in the deepest tone bearings instead of heavens around with grand gestures and tear his heart out.

It seems more straightforward and heartfelt than stilted, but once you have become accustomed to the quivering of drama 'On the Water' numbers as' The Great Fire' - duet with Wye Oak singer Jenn Wasner - you can miss it a little here . Well, 'Singles' face, cheesy or not, as a solid and strong extension to Future Islands' previous album. And it's pretty hard to imagine that one can ever have too much of Herring's mesmerizing vocals.