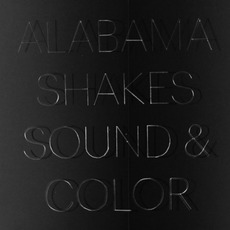 Tracks
People who bought this release also bought
This album just takes me back to a different time. It's just so easy to listen to. My ears love every second of it. My favorites off the album are, "Don't Wanna Fight", "Gimme All Your Love", and "Future People". This album just has a very chill, mellow vibe to it, not to mention the soul that pours out of each track. If find it interesting how even on more "aggressive" songs, for lack of a better word, the feel of the song as whole is very peaceful and laid-back, like in "Don't Wanna Fight", for example.

I like this album, I like this artist. Well worth the buy!
'Sound & Color' is in many ways a title match and commenting Alabama Shakes' debut album 'Boys & Girls' from 2012. While the debut as a product was more informal and, well, fun, witnesses sequel about a greater degree of ambition, maturity and reach. There are more sounds and colors in the palette next course's blues-soul-funk blast that led by the hit 'Hold On' hinted the group's considerable commercial potential.

Brittany Howard and co. could have chosen the easy way: Had the streamlined debut expression could cunningly become global stars a la The Black Keys. Instead, they have chosen to make an album with often introspective and complex structures and textures, a joyful grayscale proposal that is not afraid to wade around in its own shadows.

Here's gospel, classic rock a la Led Zeppelin, neo-soul and punk directness. Best of all are the songs like the first single 'Do not Wanna Fight' finds a sparkling rent between soul and funk - A Curtis Mayfield-esque guitar figure framed by a bass line that is both heavy and mellow and simultaneously exudes an almost uncontrollable indignation. Above everything Brittany Howard's androgynous voice that in its howling intonation like nothing so much about James Brown.

A more rocket gravity sets in the 'Dunes',' Future People 'and' Gimme All Your Love 'forming an explosive, initial cocktail on an album that later challenge his listening gospel soft ballads (' This Feeling 'and' Miss You ': Think Al Green on' Simply Beautiful ') and regular garage rock (' The Greatest ') before shutting down the almost ostentatiously introspective neo-soul-lullabies,' Gemini 'and' Over My Head ', both far from would be stuck on the experimental Erykah Badu album.

Alabama Shakes is to be credited to challenge themselves and their ambition to be more than just radio friendly managers of a blues-based rock with roots in Muscle Shoals tradition (to stick to the Alabama-angle). The group has obviously wanted to create a curious work and succeed in transplanting its expression. That the sacrifice of some of the debut rousing energy in an effort to put down roots in several forms of vegetation is to live with.