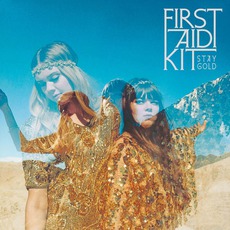 Tracks
People who bought this release also bought
First Aid Kit have improved their music even further from the last album, The Lion's Roar. On this album strings have made their way onto the album, which makes their sound far more intelligent. The melodies as well have been greater, like on tracks like Stay Gold and Waitress Song, where the voice is so clear and melodic. tracks like these also have got a more bombastic sound to the drums, which makes it really enjoyable to listen.

The whole album is basically just hit after, starting with the first single My Silver Lining and moving on to the great Master Pretender

A little touch of a more country vibe also appears on the album with a track like Heaven Knows, where they once again charm with their melodies.
Shattered & Hollow is also one of the highlights on the album, in my opinion, where they really show brilliance on singing and writing. Not to forget Cedar Lane, where it with it's stunning ending just is impossible not to get moved by.
The only track on the album that is least appealing to me, is The Bell, all though it still have some moments.

The ending with A Long Time Ago is a quiet song that is simply beautiful with the simple guitar play. Together these songs makes it a very enjoyable album that only can get you in a special mood of euphoria.