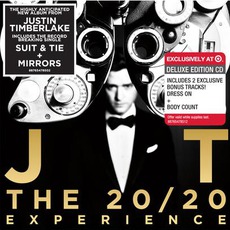 Tracks
Also by Justin Timberlake
People who bought this release also bought
This CD is interesting, but I would say that Justin doesn't push the envelope of what is popular as he has done in the past. He seems to be sticking the repetitive sounds of the producer Timbaland with the same formula. This formula turned out not such a smooth result in "The 20/20 Experience" however. I think it sounds like a cut and paste type album. This song should go here and this one here, but I don't really feel the cohesiveness and smooth finishes that Justin usually produces on an album. It seems forced. Plus, he is married. I don't think he should be talking about some things in his lyrics anymore. It seems, again, faked. Plus, I think his songs just repeat traditional world listening, lyrics and subjects everyone keeps saying, dance, drink, don't think. Is that all life is to you Justin? This CD is not the best Justin Timberlake CD I have listened to and I don't plan on buying it.
After an excruciating 9 year wait since his last LP "Futuresex/Lovesounds" we hear a rejuvenated and wiser Justin Timberlake. He returns with an epic 70 minute and 10 song album that is frankly going to go down as one of the best of the decade. From established hits like "Suit & Tie" to "Don't Hold The Wall" we also have other songs that could probably never make it to the radio due to their subtlety and length like the beautiful "Blue Ocean Floor". This is hands down the best JT album yet, and one that reminds us what we've all been missing in the almost decade it's been since 2nd album. Thankfully, 20/20 Experience Part 2 will be out before the end of this year.
Not a great album in my opinion. I think only Suit & Tie and Mirrors are the only great tracks on here. I'm not sure where he was going with this. It's like jungle meets classic R&B and then slams into hip hop..I don't get it.