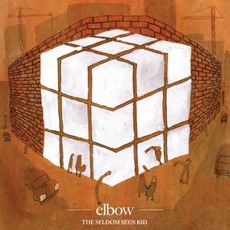 The Seldom Seen Kid
by Elbow
Tracks
People who bought this release also bought
A majestic masterpiece of music. Elbow have yet again managed to concoct a fine mixture of wonderful vocal harmonies, breath-taking orchestral melodies and a solid shell of guitar, piano and drums that gives it all structure. From beginning to end, there is not a single song that doesn't make you want to sing at the top of your lungs in joyful bliss.

"Starlings" is a song that gentle progresses into a big, explosive, blissfull boom from the orchestra. Next, "The Bones Of You" is a rythmical, head-nodding, slightly grungier song which also progressively gets louder and better. The third track is the subtle, delicate and masterful "Mirrorball", which, through gentle harmonies on the harp, evolves and is a lovely, relaxing listen. After that comes the more violent single "Grounds For Divorce", with an addictive chorus and lyrics you want to sing along to. "An Audience With The Pope" has an oriental sound and talks of a girl who is the most important thing in the world. The addictive tune will have you hooked. "Weather To Fly" is a softer, melodical song with a strong rythm on the drums. "The Loneliness Of A Tower Crane Driver" is another masterpiece, whose plodding rythm reflects the monotonous life of the driver at the top of his crane. "The Fix", a duet, combines two voices brilliantly with fast-paced music. "Some Riot" is a very saddening song which features brilliant rumbling slides. "One Day Like This" is the centerpiece of the album though. Recognisable from hildren in Need mashup from 2011, it conveys such joy and bliss through its lyrics, and instantly makes you happy. "Friends Of Ours" is also an excellent track from Elbow. All in all, this is probably the best album I own. Buy it!

Wow... just listened to this album for the first time, after having listened to a few other Elbow albums. This one is their "anthem" special! I challenge you to listen to "On a Day Like This" loud and not get goosebumps. Many of the other tracks echo with wonderful melancholy thickness . This is Elbow at its finest, IMO.