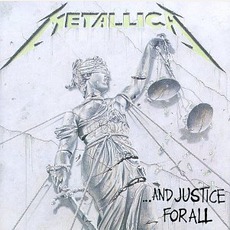 Tracks
People who bought this release also bought
OK, so lets get the negative points on this album dealt with.

First, there is practically NO bass. Metallica's legendary bass player, Cliff Burton, died before this album was made and subsequently a very angry Mr Hetfield did his best to ensure his replacement had a tough time settling in. One of these things was practially 0'ing the bass levels.

Secondly, some songs just simply dont know when to stop and go on a bit.

Third, it sounds like some of the drums are copy / pasted.

Now onto the positives.

This is Metallica at the most complicated in terms of song structures, and in places they REALLY get it right. Opening track Blackened is one of these places. The guitar riffing is precise and sharp. And you can see they have been looking at time signatures and section lengths to mix things up.

Second song '...And Justice For All' has a great intro but falls by the way-side when it tries to break into song. And it never really recovers from there. Eye of the Beholder continues to dissapoint and feels like somewhat of an after-thought or a track that only just made the cut.

Then we have 'One', followed by 'The Shortest Straw' and 'Harvester of Sorrow'. These three tracks are excellent, with the first being of such epic proportions that its legacy had shone on where the rest of the album hasn't. Shortest Straw is another fast pace reverse-snare classics with a great simple riff carrying it along. Harvester of Sorrow is slow, meanacing and almost as good as One.

Then its more dissapointment until the final track 'Dyers Eve'. But I cant help but notice the identical accenting on Lars' drums and i think this is a clear indication that this was faked. He wouldn't be the first, or the last, to do such a thing but from a band who carry such self respect at Metallica, this is a dissapointment. Otherwise, the song is amazing. Stupidly quick, great intro, savage lyrics, blistering solo.

Album definately worth checking out but no where near touching Master of Puppets.
As a lover of rock and metal music and listener of many bands, I just can't listen to metallica. There songs are weird because of the lyrics. Only song that I actually like on here is one And I am sad to say that.One star only.
On the tour for "Master of Puppets", Metallica's bassist, Cliff Burton dies in a bus accident. They subsequently hire Jason Newstead as a replacement for their deceased good friend. They released the album "...And Justice for All", containing political lyrics, double bass from Lars, and an overall awesome sound. My gripe with this albm that caused me to give it 4 stars was that they turned down the bass so much that it is impossible to hear, creating a hollow sound with no bass. It is still a great album.

Blackened: The opening song uses double bass, awesome riffs, and a kickass solo. The best song on the album by far. 15/10

...And Justice for All: Great song, but a little lengthy at times. Cool solo with great use of wah to make some video game sounds (end of solo-divebomb). 10/10

Eye of the Beholder: Not as lengthy as the title track, and uses flange in James Hetfield's voice for an underwater effect. Just for that, 13/10.

One: The most famous song on the album. Has the best solo on the album. Double bass in ending section sounds like gunshots, perfect for the lyrical theme. 15/10

The Shortest Straw: Excellent thrash song, good use of overdubbed vocals. REALLY needed bass guitar here. 11/10

Harvester of Sorrow: Good song, but overrated. Not that it is a bad song, but it is given too much fame. 10/10

The Frayed Ends of Sanity: Excellent opening sample of the guards from The Wizard of Oz. Great, underrated song. 11/10

To Live is to Die: Excellent instrumental to say goodbye to Cliff. Bass track is loops of samples that Cliff recorded, but is still inaudible. 12/10

Dyers' Eve: The best song on the album. Death metal riffs up your ass! 25/10
One of my most favorite albums of ANY band, ...And Justice for All packs that HEAVY punch that metal fans can enjoy!!! Blackened is a true Metallica song favorite by me. I can't see why Metallica can't pick up the song creating pace, they are one of the top metal bands in the world along with Avenged Sevenfold. This album is a keeper.